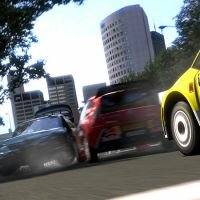 Aug 23, 2010
It seems like it has been a week where people are being annoyed or offended with video game content. In this instance, the city of Siena which is located in Tuscany, Italy, are upset of the inclusion of their Piazza del Campo race course which features in the games go kart racing mode without their permission.
What seems to have upset Siena is the inclusion of the flags of the contrade, which represent the different districts within the city. "You can not use images of Contrade, in this case the flags without authorization," states Anna Carli, CEO of the Consortium for the Protection of Palio di Siena. "Given the relevance of the game with no history and references to our party, in particular with the use of images of flags of the Contrade, we would not otherwise authorize the use." Carli states there will be a 'Diplomatic request' to the games publisher, Sony, requesting they remove what they find offensive. If they do not comply, they may move to seize the game on its release.
The city of Siena is famous for a its Palio di Siena horse race which occurs bi-annually at the Piazza del Campo. In the race, there are 10 horses and riders, the jockeys will each represent one of ten selected Contrade and wear its colours. The jockeys ride bareback, so it is not unusual for them to become dismounted for their horse during the race, but horses can also falter in the turns of the course, causing injuries them injuries which can often result in them being unable to race again.
While I can appreciate that Siena is trying to protect part of its tradition, it's not like the Piazza del Campo is being negatively portrayed in the game. Surely it would be better publicity to let the game go through as it is so gamers can experience the complete environment. This could see an increase in tourism to the city.
Gran Turismo 5 will be published by Sony on November 3, 2010.
Source: Corriere Fiorentino via Kotaku